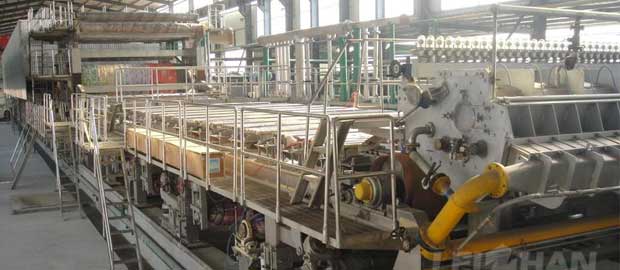 3600mm double fourdrinier wire corrugated paper machine use AOCC or LOCC as raw materials, after waste paper pulping, slurry screening and slurry cleaning and refining, accept pulp enters into corrugated paper machine wire part. During in the whole process of pulping, leizhan are able to offer unit stock preparation line machine, high quality, low energy consumption and high efficiency. Here are more details about 3600mm double fourdrinier wire corrugated paper machine as below.
Main Data of 3600mm Double Fourdrinier Wire Corrugated Paper Machine
Raw material: 20% AOCC, 80% LOCC
Output paper: High grade corrugated/ fluting paper
Trimmed width: 3600mm
Basis weight: 90-160g/㎡
Reeling paper width: 3650mm
Working speed: 300-460m/min
Design speed: 500m/min
Capacity: 190t/d
Gauge: 5075mm
Any demands about paper mill machinery, or want to establish corrugated paper mill, please feel free to contact us. Email address: leizhanchina@gmail.com.