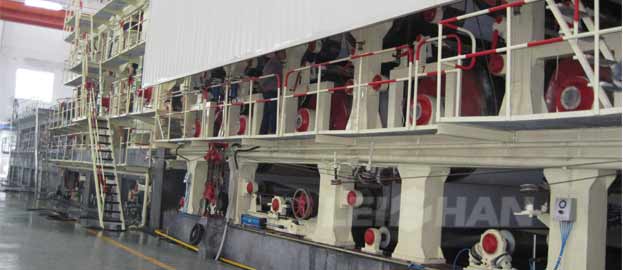 Grayboard paper is a kind of paperboard made of recycling waste paper, is a environmentally packaging materials. It mainly used in packing box, advertising board, folders, picture frame backboard, bags, hardcover books, receiving boxes, samples, lining boards, puzzles, partitions, etc. It divided into single grayboard, double grayboard, all grayboard.
One of our customer sent a email to ask the 40-50t/d grayboard paper making unit. Here are the solutions about that.
Grayboard Paper Making Technology Parameter
Grayboard paper pulp→headbox-paper machine wire part→paper machine press part→dryer part→calender→paper winding machine→paper rewinder.
Pulp on the wire:0.24%-0.30%
Paper machine working speed: 28-32m/min
Single layer quantity: 34-40g/㎡
Wet paper moisture: 70-72%
We supply the complete grayboard paper making unit, not only the paper making, but include the stock preparation line needed pulp equipment, welcome to consult us for more details: leizhanchina@gmail.com.