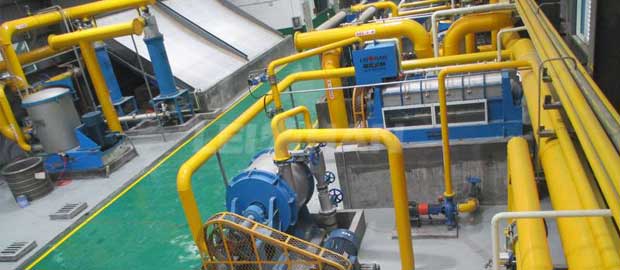 Three layer 4200mm corrugated paper machine consists of wire part, press part, drying part, reeling part, calender, foundation part and paper machine auxiliary system, etc. According to our professional manufacture experience and make sure final technical proposal. Here are some data about 4200mm corrugated fluting paper machine.
Technical Data Of 4200mm Corrugated Paper Machine
Raw material: LOCC
Trimmed width: 4200mm
Capacity: 150t/d
Basis weight: 80-220g/m²
Design speed: 300m/min
Working speed: 120-310m/min
Crawling speed: 25m / min
Gauge: 5400mm
Headbox lip width: 4550mm
Corrugated Fluting Paper Pulping Line Flow Overview
Waste paper → Pulper machine → High density cleaner → Coarse screen system ( middle consistency pressure screen, light impurities separator, reject separator ) → Low density remove slag system → Fine screen → Refiner → Approach system → Corrugated paper machine
Leizhan provide complete corrugated fluting paper stock preparation line equipment, our pulping equipment has the advantages of high quality, low energy consumption and low investment. Please feel free to consult me for more details. Email address: leizhanchina@gmail.com.