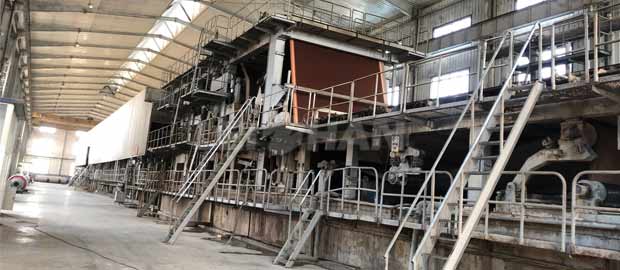 Corrugated cardboard is the most widely used type of cardboard, mainly composed of two layers of paper surface and one layer of paper core bonded. The main function is to make corrugated cardboard boxes for packaging goods, but also can be used as sales and transportation Outer packaging. We could provide complete fourdrinier corrugated cardboard paper production line and our pulping equipment adopted advanced manufacture process. The final paper has the advantages of light weight, shock and shock absorption, moisture proof. 4200mm fourdrinier corrugated cardboard paper machine main data as below.
4200mm Corrugated Cardboard Paper Machine Main Specifications
Raw material: LOCC
Output paper: corrugated cardboard paper
Trimmed width: 4200mm
Production capacity: 350t/24h
Basis weight: 100-140g/m²
Calculate basis weight: 110g/m²
Wire width: 4750mm
Working speed: 500m/min
Design speed: 550m/min
Dynamic balancing: 650m/min
Gauge: 5400mm
Drive method: AC Variable Frequency Section
Layout form: Single-layer structure
Recycling waste paper industry is an important measure to protect the environment. More and more people plans to join the paper recycling industry. Want to know more solutions about paper recycling production line or 4200mm fourdrinier corrugated cardboard paper machine, contact me. Email address: leizhanchina@gmail.com.