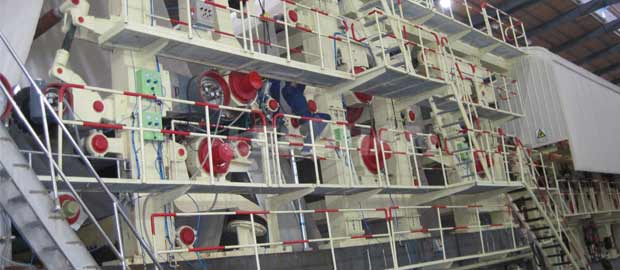 4700mm double layer paper machine mainly used to make high strength corrugated paper, T-paper, etc. The paper machine is composed of forming section, press section, drying section , sizing section, reel section, etc. Recycling Locc as raw material to produce wrapping paper, leizhan could offer unit paper stock preparation line equipment, paper pulper, slurry cleaning, slurry screening, etc. More technical data of 4700mm double layer T-paper corrugated paper machine as below.
Technical Data Of 4700mm T-paper Corrugated Paper Machine
Raw material: 100% Locc
Main products: High strength corugated paper, T-paper
Basis weight: 100-170g/m²
Trimmed width: 4700mm
Production capacity: 300t/d
Working speed: 500m/min
Design speed: 550m/min
Dynamic balancing speed: 650m/min
Wire width: 5200mm
Lip width of headbox: 5050mm
Gauge: 5900mm
Layout: single layer layout
Do you have plans to start paper recycling industry business? We can provide whole set paper recycling pulping equipment and turn-key project. Welcome to consult me for more details about 4700mm double layer T-paper corrugated paper machine. Email address: leizhanchina@gmail.com.