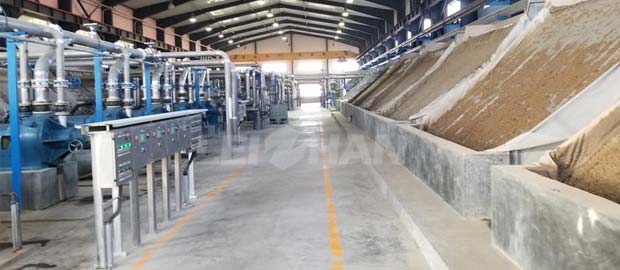 Corrugated paper mainly used to process into carton box. One of our customer choose LOCC and AOCC as raw material to produce corrugated paper. According to the quality of raw material, our professional engineer designed two pulping lines. There are pulping equipment needed in these two production lines.
Corrugated Paper Machine AOCC Pulping Line
Chain conveyor: Convey AOCC to middle consistency hydrapulper
Mid-consistency hydrapulper: AOCC and water mixed forming slurry
Double disc refiner: Improve the beating degree of slurry
Corrugated Paper Machine LOCC Pulping Line
Chain conveyor: Convey LOCC to bale breaker
Bale breaker: Waste paper bales breaking and selecting
Drum pulper: Waste paper and LOCC mixed forming slurry
High density cleaner: Remove heavy impurities
Light impurities separator: Remove light impurities in slurry
Fine screen: Remove impurities and improve consistency of slurry
Our pulping equipment can deal with all kind of raw material, such as LOCC, AOCC, OCC, Wood pulp,etc. The high quality pulping equipment reduce the fiber loss and improve the production capacity. We are able to provide complete pulping equipment of corrugated paper production line whatever change old production line or start paper making business. Any more details, please feel free to contact with me. Email address: leizhanchina@gmail.com.