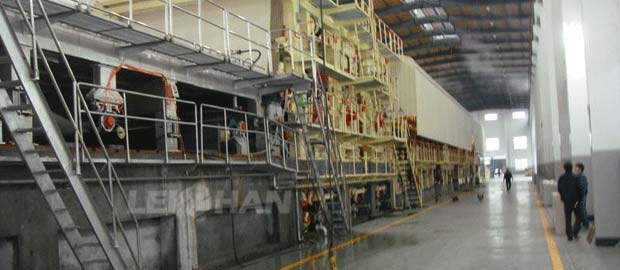 The corrugated paper machine is a 5600 Fourdrinier wire multi-cylinder paper machine, which is mainly used to produce 80-180g/㎡ high-strength corrugated paper, T paper, etc. All products are roll paper. This machine is composed of headbox, fourdrinier wire section, pressing section, drying section, sizing machine, reeling section, transmission section, foundation section, hood section, electric control section, lubrication section, cordless paper threading and other parts. We can offer high quality high strength corrugated/ flute paper machine.
Main Technical Data of 5600mm Corrugated Paper Machine
Main products: high-strength corrugated/flute paper, T paper
Raw material: Recycled carton box
Basis weight: 80-180g/㎡
Trimmed width: 5600mm
Production capacity: 500t/d
Working speed: 650m/min
Design speed: 700m/min
Dynamic balance speed: 800m/min
Crawl speed: 25m/min
Wire width: 6000mm
Headbox lip width: 6000mm
Gauge: 7000mm
High quality high strength corrugated/ flute paper making machine supplier. Contact us for more details about 5600mm Double Layer Corrugated Paper Machine. Email address: leizhanchina@gmail.com.