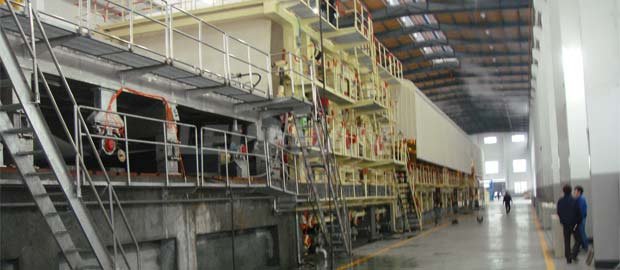 5600mm three layer cardboard paper board machine mainly used to produce corrugated paper, kraft paper or T-paper. Leizhan are able to provide unit paper recycling pulping line equipment, like pulper, pulp cleaner, pulp screening machine and pulp refining machine. Our equipment adopted advanced technology and the best material to ensure the quality of pulping equipment, thereby ensure the quality of cardboard paper. The three layer cardboard paper board machine consists of wire part, press part, dry part and reel part. Cardboard paper board machine technical data as below.
Technical Data Of Three Layer Cardboard Paper Machine
Paper type: Cardboard paper
Trimmed width: 5600mm
Basis weight: 70-160g/㎡
Capacity: 750t/d
Working speed: 780m/min
Balance speed: 1000m/min
Motor power: 7531kw
Leizhan offer full service include design of cardboard paper board machine, installation, staff training and after sales service. If you want to start paper making business or upgrade old paper production line, welcome to consult with us. Email address: leizhanchina@gmail.com.