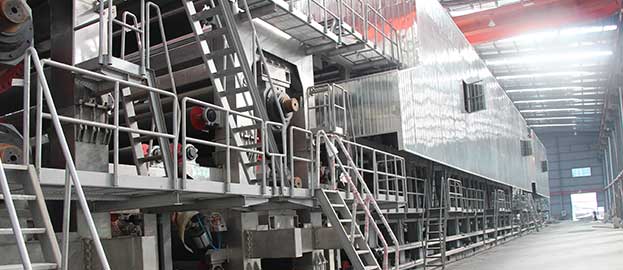 Corrugated cardboard is a highly useful, cost-efficient, versatile packaging material. Paper plants use Leizhan supplied high technology equipment and advanced production line solutions can produce high grade corrugated cardboard with high compressive strength, tensile strength, bursting strength, tightness. Following is Leizhan solution for 600T/D Corrugated cardboard pulp processing and paper making project.
600T/D Corrugated cardboard pulp processing line
Firstly, waste paper board be conveyed into Bale breaker for paper breaking. Then, it will be conveyed into Drum pulper for primary pulping and screening, a large amount of light impurities will be removed out with Drum pulper.
Secondly, the pulp will be conveyed into High density cleaner for removing Heavy impurities like stones, staples, etc, will be removed out.
Thirdly, the screening of pulp, the pulp will be conveyed into Coarse screen. The process is: 1st stage Mid consistency coarse screen-2nd stage Coarse screen-3nd stage coarse screen Light impurity separator-Reject separator-1st stage Fine screen-2nd stage Fine screen-3nd stage fine screen-Inclined screen. Among this, Low density cleaner group will be used for removing heavy impurities like sand from 1st stage fine screen.
Lastly, the pulp will be conveyed into Pressure screen before paper machine Inflow pressure screen to reach homogenate of fiber for paper making.
Leizhan high speed corrugated cardboard making machine adopts high technology QCS control system to inspect final paper's quality, which helps to keep the stable running of paper machine and final products quality. The paper machine contains Headbox, Forming section, Press section, Dryer section, Sizing section, Calender section, Reeling section and rewinder machine. The work speed of Corrugated cardboard making machine can be over 400m/min with daily production capacity 600t/d.