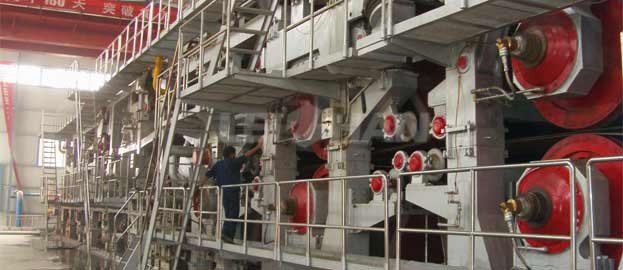 Recycling economy has been a tendency, the purpose of Leizhan paper machinery is turn waste to treasure, we manufacture cardboard and greyboard making machine which mainly use waste paper as raw material. Recently, greyboard paper machine is always in high demand, here is one of the project we provide for customer.
3400/90 Greyboard Making Machine Main Data
1. Paper Kind And Pulp Ratio
Paper Type: Single Greyboard Paper
Usually Quantitative: 300g㎡
Pulp Ratio: LOCC
2. Greyboard Paper Machine Specification Data
Dryness: Out of wire part: ≥16%;out of press part: ≥42%; Reeling Machine: ≥93%
Design Wildth: Cylinder Mould surface width: 3900mm;
Reeling machine paper width: 3500mm;
Final paper width: 3400mm
Paper Machine Speed: Design speed: 90m/min;
Working speed: 80m/min(50Hz);
Transmission Speed: 100m/min;
Balanced Speed: Static balance<150m/min
Paper Winding Roll Balance Speed: 1200m/min
Gauge: 4400-4500mm
Arrangement form: Single arrangement.