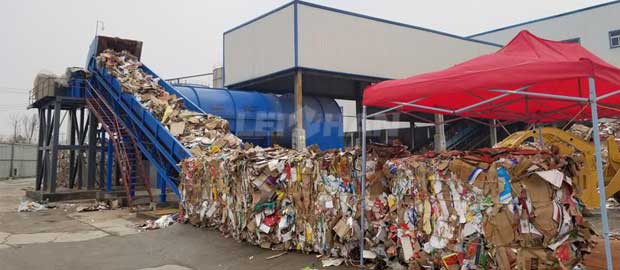 In the processing of convey waste paper to pulper machine or bale breaker, most customers use manual labor to complete waste paper transportation. In order to reduce labor and more efficiency to finished conveying, the customer use slat chain conveyor for waste paper recycling conveying, which ha advantages of large capacity, low motor power, less wear and high efficiency. Main specifications of chain conveyor as below.
Main Specification Of Chain Conveyor
Conveying materials: waste paper, pulp board
Application: conveying waste paper or pulp board to pulper machine or bale breaker
Conveyor type: horizontal conveyor or inclined conveyor
Material: carbon steel or cast iron
Chain plate width: 1200-2600mm
Feeding capacity: 60-600m³/h
Motor power: 5.5-55KW
Equipped: with reducer
Advantages: large capacity, reduce labor, high efficiency
Leizhan is specialized in manufacturing pulping equipment for 40 years and offer unit paper recycling pulping equipment, included conveying equipment, pulper equipment, screening equipment, cleaning equipment, etc. Any more details about pulping equipment, please feel free to contact with me. Email address: leizhanchina@gmail.com.