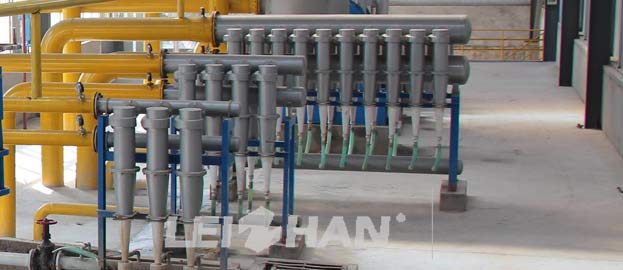 The fluting paper production line consists of four main procedures: pulping, cleaning, screening and refining, and each stage has its role in the whole process. Cleaning is the one that mainly removes the heavy impurities in paper pulp to improve the pulp fiber quality.
Leizhan provide two kinds cleaner equipment: High Density Cleaner and Low Density Cleaner to meet the removing impurities need.
High Density & Low Density Cleaner
Structure difference: High Density Cleaner has a double corn structure that has a good slag separation ability.
Low Density Cleaner is a modular design, which having ceramic cone and slag discharge mouth
Function difference: High Density Cleaner can remove sand, metal, glass and other heavy impurities.
Low Density Cleaner can remove gravel, scrap iron, dust, large ink particles and other heavy impurities.
Working performance: High Density Cleaner has manual discharge and self-discharging systems. The control interlocking system put an end to the fiber loss.
Low Density Cleaner has a stainless steel body, can divide into hand and automatic system, improving the work efficiency.
Production capacity: High Density Cleaner has six types, the production capacity ranges from 25t/d to 850t/d.
Low Density Cleaner has three types, the single equipment passing capacity is 400L/min, 600L/min and 1000L/min.
Leizhan Advantage In Cleaner Equipment
1. More than 30 years positive experience in supplying cleaner equipment in fluting paper making line. Customers spread from Africa to Asia, including South Africa, Iran, Germany, India, Egypt and so on.
2. Leizhan masters core technology in corrguated paper production line. For example: the self-discharging system used in High Density Cleaner can largely improve the working efficiency and protect the machine from impurities damaging.
3. First-class engineer to design the project drawing and professional installation personnel to ensure the equipment well-mounted.