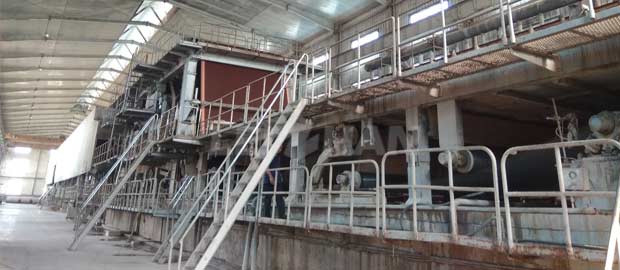 Corrugated paper mainly used to produce carton box, which has perfect impact resistance to protect carton. complete corrugated paper production line included corrugated paper pulping line and corrugated paper machine line. Leizhan offer complete corrugated paper production line stock preparation line equipment and turn-key project. More details of corrugated cardboard paper production line as below.
Corrugated Fluting Paper Pulping Line
Chain Conveyor → Drum Pulper → High Density Cleaner → Middle Consistency Coarse Screen → Light Impurity Separator → Reject Separator → Middle Consistency Cleaner → Fractionating Screen → Low Density Cleaner → Fine Screen → Inclined Screen → Double Disc Refiner → Vibrating Screen → Inflow Pressure Screen
Corrugated Cardboard Fluting Paper Machine Line
1. Wire section: air cushion headbox sizing, three-layer net forming (7 meters for top wire, 10 meters for liner wire, and 23 meters for bottom wire).
2. Press section: two double blankets with large roll diameter pressing (Φ1350/Φ1350).
3. Drying section: 28 dryer cylinders Φ1800mm, arranged in the form of 8+10+sizing+10+two-roll calendering+ Reeling paper machine.
4. The transmission system adopts partial transmission and AC frequency conversion speed control.
5. The corrugated paper machine looks at the wire section from the paper reel, and the transmission is on the right side, which is the right machine, otherwise it is the left machine.
Leizhan is able to provide complete corrugated cardboard paper production line from waste paper pulping to final paper machine rewinder. Want to build turn-key project, please feel free to contact with us. Email address: leizhanchina@gmail.com.