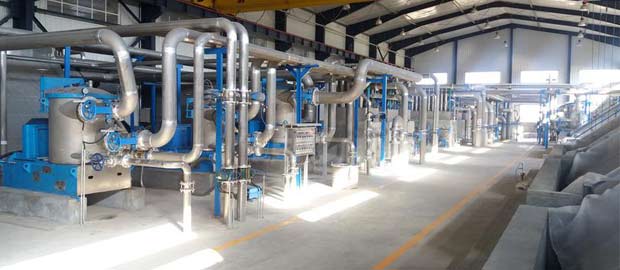 In waste paper recycling industry, AOCC or LOCC usually as raw materials to make kraft paper, testliner or corrugated paper. One of our customer use 80% LOCC and 20% AOCC as raw materials to make corrugated cardboard paper, and full set stock preparation line machine provided by our company.
550t/24h Corrugated Paper Pulp Production Line Machine
Chain conveyor: Width: B=1200mm, Totle length: 8m
Middle consistency hydrapulper: 10m³, h=Ø20mm, C=4~7%
High density cleaner: Q=2000L/min, C=3~5%, P= 0.2~0.5MPa
Double disc refiner: Ø600mm, C=3~5%
Bale Breaker: Φ3250mm, h=Φ25~35mm
Drum pulper: diameter of drum pulper: Ø3500mm
M.C. coarse screen: A=3.0m2, S=0.60mm, C=3~4%
Light impurity separator: V=2m³, h=3.5mm, C=2~2.5%
Reject separator: Ø380mm, C=0.8~1.2%, h=4.5mm
Fractionating screen: A=4.83m², s=0.20mm, C=1.4~1.6%
Leizhan offer unit corrugated cardboard stock preparation line machine, if you want to upgrade old paper making project, please contact with for more technical details. Email address: leizhanchina@gmail.com.