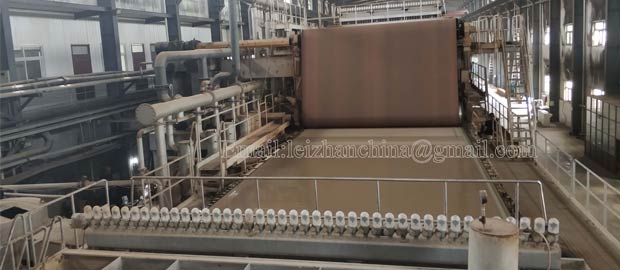 There are many processes are needed in the process of corrugated cardboard T-paper production line, pulping, screening equipment and cleaner equipment,etc. Before forming slurry, waste paper needs use bale breaker to be breaking, and then enters into pulping. Next, the coarse screen of waste paper, classification of the slurry and clean and fine screen of slurry. A lot of equipment in the corrugated cardboard paper pulping line, such as hydrapulper, high density cleaner, middle consistency pressure screen, reject separator and so on.
Corrugated Cardboard Paper Machine Pulping Line Process
Above all, through the chain conveyor to spread the waste paper into the drum pulper for processing, waste paper will be broke to single fiber form in high consistency situation. These fibers mixed with water forming slurry. The cracked pulp is at a concentration of 3-5%, through the pulp pump to two parallel use of high density cleaner,centrifuge gravity with a high density cleaner to remove impurities. Next, into first stage coarse screen system, the pulp is transported to first stage middle consistency coarse screen for screening by pulp pump. Impurities and non-deflak pulp into light impurity separator,tailings enter the reject separator for final treatment. , after middle consistency cleaner remove slag,pulp into the first stage fractionationg screen,according to ratio ,the fiber of pulp can divide into short fiber and long fiber by fractionating screen,the short fibers passed through the sieve were thickened by a thickener. At last, through the pulp pump into the short fibers pulp tower storage, and enters into approach system before paper machine.
Tell me your raw material and capacity, our professional engineer will according to your requirements to design drawing. Please feel free to consult me for more details about corrugated cardboard T-paper production line . Email address: leizhanchina@gmail.com