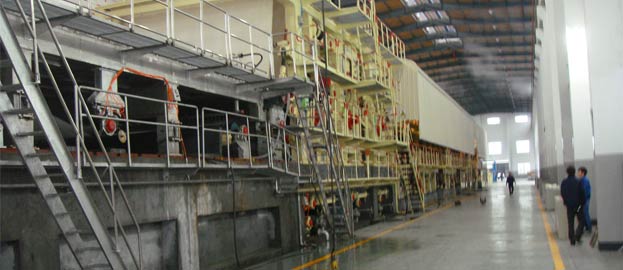 Corrugated board paper production line is the most important production line equipment of carton packaging industry, include wet part equipment, dryer part equipment, press part equipment, calendering part, etc. Leizhan is able to manufacture the complete set of corrugated fluting paper making machinery, which is high efficiency and low energy consumption.
Corrugated Fluting Paper Machine Main Supply Scope
Paper grade: corrugated paper, corrugated medium fluting paper;
Trimmed width: 2400mm-6600mm
Basis weight: 70-150gsm
Design basis weight: 100gsm
Design speed: 250m/min-1000m/min
Drive speed: 250m/min-1000m/min
Working speed: 200m/min-800m/min
Design production: 100-800tpd
The turn-key corrugated fluting paper making project except the corrugated fluting paper machine also include the stock preparation project. Steel chain conveyor, paper pulper, pulp screening machine, pulp centri-cleaner, pulp refiner, pulp tailing machine etc, if you want to establish new paper mill or upgrade the old paper making line, welcome to consult us: leizhanchina@gmail.com.