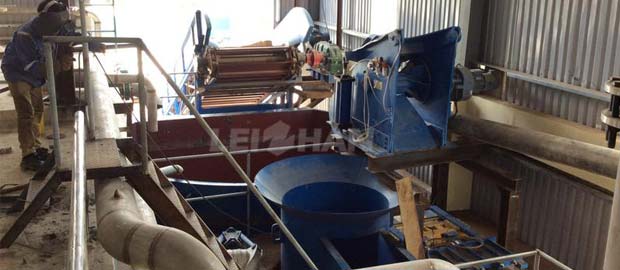 D type continuous pulping system mainly used in LOCC and AOCC recycling pulping line. These raw materials have many impurities and are difficult to disintegrate. D type continuous pulping system enables the plastic, other light and heavy impurities in the slurry to be removed from the pulper tank before being broken or after being broken, before passing through the pulper sieve, thereby reducing the pulper The content of impurities in the tank keeps the continuous disintegration and improves the production capacity.
D Type Continuous Pulping System Equipment Composition
1. D type pulper and the sediment well are the main body of the continuous pulping system;
2. Hydrapurger regularly draws out the impurities in the pulper;
3. Drum screen mainly dewaters and removes the slag cleaned by the impurity separator;
4. Ragger is used to remove large entangled debris in the D type pulper;
5. Rope cutter is used to cut the entanglement removed by the rope winch, which is convenient for transportation;
6. Grapple is mainly used to remove heavy slag from the sediment well.
We can offer all kinds of raw materials recycling pulping line machine, whatever used in which paper production line. Complete stock preparation line machine provided by leizhan company. Want to know more, please feel free to consult us. Email: leizhanchina@gmail.com.