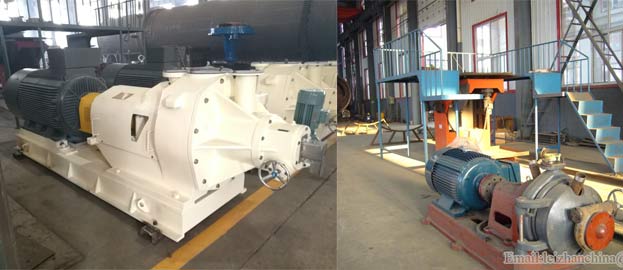 Double Disc Refiner is continuous pulping equipment in paper making and pulping system. Leizhan manufacture high quality Double Disc Refiner which with many advantages.
Advantages Of Double Disc Refiner
1. Compact structure, less occupation of land;
2. High efficient, low power consumption;
3. Well adaptability, simplicity of operator, flexible regulation, convenient to service;
4. It can be unit set use or use more one in series connection and parallel connection according to requirements of technological requirements.
Double Disc Refiner Running Tips
1. Turn hand wheel retract in shifting-seat feed system to come away the pairing plates, the interval is 3mm;
2. Open the clean water valve and outlet valve. The refiner can be opened only when it has been put into clean water. Otherwise the mechanical seal can be easily broken;
3. Examine the bearing temperature rise at any time when load is running, generally it will not exceed environment temperature 30℃, the maximum temperature will not exceed 70℃. Stop operation and check the machine at once if temperature exceed this limit or there is unnormal sound in the machine.
Any parameters about Double Disc Refiner, welcome to click the orange link view more, and any needs contact us: leizhanchina@gmail.com.