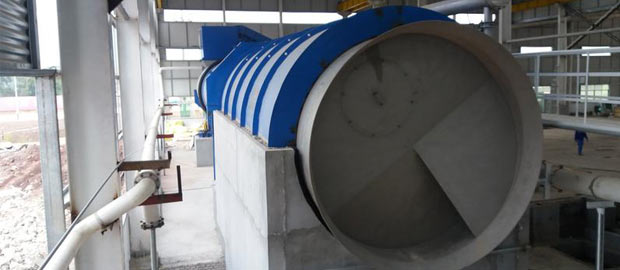 Drum pulper suits for large capacity kraft paper or corrugated paper production line. The biggest capacity reached 1800t/d. Drum pulper can continuous pulp and preliminary screen, simplify process. Drum pulper is able to improving the beating quality effectively and reduce fiber loss.
Main Features of Drum Pulper
1. Low energy consumption: Drum pulper can gently pulp under 14%-18% high consistency, the water consumption for pulping is greatly reduced, reducing the energy consumption, which is about 25% lower than that of traditional pulping equipment.
2. Improving pulping quality: The drum pulper has mild pulping conditions, which not only does not damage the strength and length of the fiber, but also ensures that light impurities and some heavy impurities are not broken to the greatest extent, thereby ensuring the quality and cleanliness of the pulp.
3. Few quick-wear parts, low maintenance cost: Simple structure, durable, and low maintenance. Some coarse impurities are removed in advance, which reduces the wear of subsequent equipment.
Drum pulper is hot selling. Want to know more details about drum pulper, contact us. Email address: leizhanchina@gmail.com.