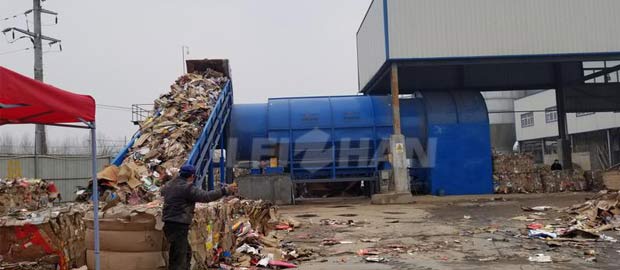 High efficiency bale breaker mainly used in waste paper recycling pulping line to remove impurities in raw material and reduce wear to the following equipment, such as pulper, cleaner or pulp screening machine. Main features of bale breaker as below.
Main Features of Bale Breaker
1. Disperse bundled raw materials, dry screening to remove light and heavy impurities;
2. Reduce subsequent equipment wear;
3. Improve the efficiency of follow-up equipment;
4. Labyrinth seal design in the screening area, with good dust-proof effect;
5. Double-side reducer connecting rod transmission, strong transmission force;
6. Specially designed sieve residue separation device, the paper pieces enter directly into the raw materials after bulk packaging, simplifying the process and high operating efficiency;
7. The discharge port is sealed, water film dust is removed, and the working environment is clean;
Leizhan provide whole set paper recycling line pulping line machine, like pulper machine, pulp screening machine and pulp cleaning machine, etc. Contact us for more details. Email address: leizhanchina@gmail.com.