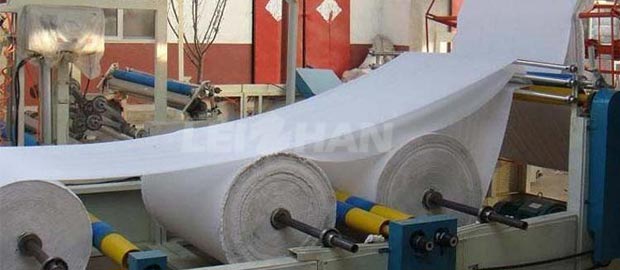 Slitting rewinder also known as the slitting machine. A device that cuts the sheet shards the paper lengthwork edited into a smaller roll or tray. Paper machine slitting machine mostly used for slitting corrugated paper, kraft paper, toilet paper, cigarette paper,etc. There are many forms in the slitting method depending on the structure of the main components such as the roll paper. Slitting rewinder consists of paper exit, vertical slitting and roll paper. The slitting mechanism has two types of shearing type and scoring type. Roll paper also has a shaft roll and a surface roll paper. With advanced technology, Leizhan can provide complete production line of paper roll.
Data Of Slitting Rewinder
Wide width(mm): 1800-2600
Unwinding diameter(mm): 1500
Rolling-up diameter(mm): 1300
Work speed(m/min): 150-250
Slitting width(mm): >300
Features Of Slitting Rewinder
♥The host is driven by a variable frequency motor.
♥Unwinding automatic gas-liquid correction.
♥Unwinding forms include: manual auxiliary feeding or shaftless hydraulic feeding and shaft cylinder feeding.
♥Unwinding tension control adopts advanced automatic control.
♥Winding is carried out by double bottom roller surface.
We can also provide complete pulping equipment and paper machine before slitting rewinder machine, Welcome to consult me about paper recycling and complete pulping line equipment. Email address: leizhanchina@gmail.com