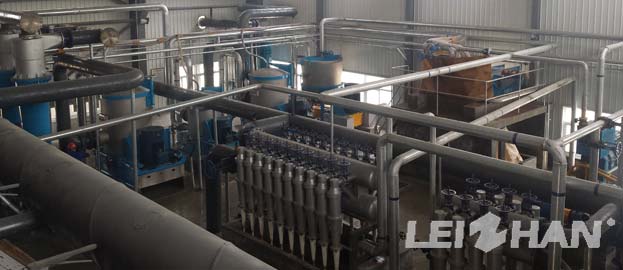 The pulp and paper making process is a whole set cooperation of paper machine, each equipment has an irreplaceable role in the paper production line. Do you know what are the needed machine? And how does them work together?
Needed Machine In Paper Production Line
The paper production line mainly includes conveying, pulping, cleaning, screening and refining stages.
Generally, the pulp and paper working procedure is:
1. Waste paper
2. Chain conveyor
3. Hydrapulper
4. High Density Cleaner
5. Pulp Chest
6. Pressure Screen
7. Low Density Cleaner
8. Reject Separator
9. Double Disc Refiner
10. Pulp Chest
11. Inflow Pressure Screen
12. Paper Machine
13. Finished Production
According to the different paper production, the needed machine may increase or decrease, but the listed machine is a complete production line.
How Does Paper Machine Work Together?
First, conveying machine transfer the raw material into pulper to grind into pulp fiber.
Second, cleaning and screening removes the impurities from the pulp fiber.
Third, refining machine beats the pulp fiber to improve the slurry beating degree.
Fourth, drying and cutting the finished paper.
Main Paper Production Line
The listed paper making machine apply to producing all kinds of paper production line like Kraft(Craft) Paper Line, Corrugated Paper Line/Fluting Paper Line, Test Liner Paper Line, Duplex Paper Line and so on. The end production includes A4 Copy Paper, Coated Paper, Toilet Paper, Packaging Paper, Shipment Box etc., which means the set of paper machine can meet all paper mill production need.