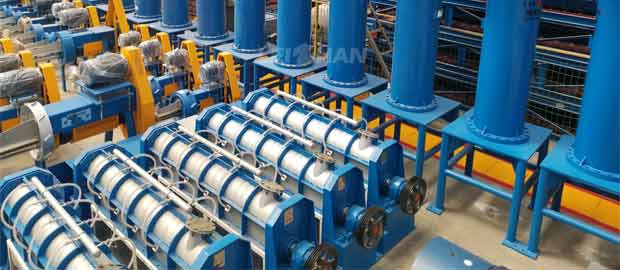 Waste paper recycling pulping line tailings pulp treatments equipment, reject separator used for fiber relief and impurities separate in coarse screen system. Reject separator can remove some small plastic sheet from Light Impurity Separator tailings. Reject Separator can effectively remove some light impurities, and has been highly praised by customers who have used it.
Main Features of Reject Separator
1. Stable feed slurry box, keeps feeding stability
2. The blade rotor has great pulp defibering ability;
3. The rotor screw blade, accelerates tailings running;
4. Using water spray device, improves the fiber recovery rate.
Reject Separator for paper recycling line are able to reduce fiber loss, excellent remove impurities ability and maintenance easy. Do you want to improve the slag discharge effect of the original pulping equipment? Contact us to know more about Reject Separator. Email address: leizhanchina@gmail.com.