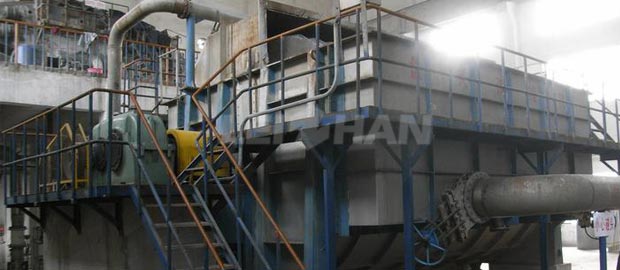 Gravity disc thickener is mainly used for low concentration slurry concentration. This machine is different from the traditional vacuum disc thickener, Gravity disc thickener does not need to be installed on the upper floor and is equipped with a water leg tube, which can replace the traditional gravity type round net thickener, which has advantages of large filtration area and low filtrate concentration, compact structure and small assembly space, made of stainless steel welded, corrosion resistantIt. In order to help customer understand the installation method, our engineer designed a program for him. Hope these methods can bring you some tips.
Install Method Tips Of Gravity Disc Thickener
1.Pay attention to the level when installing the equipment. Make sure that the whole equipment is level. The horizontal deviation of the main shaft must not exceed 0.2mm/m.
2.Open the packing box, lift the gravity disc thickener with a crane, string into the equipment floor with the anchor bolts, and adjust to the appropriate length (the general exposed length is 1.5 times the bolt diameter).
3.A grout should be reserved for more than 50mm space for secondary grouting.
4.The level of secondary adjustment of the cement after solidification, the tolerance is 0.2 mm/m. Lock the anchor bolts by hand and perform secondary grouting.
5.Loosen the horizontal adjustment bolt and check the level.
The above are some tips for the installation method, If you have any doubts or better suggestions, please feel free to discuss with me. Email address: leizhanchina@gmail.com