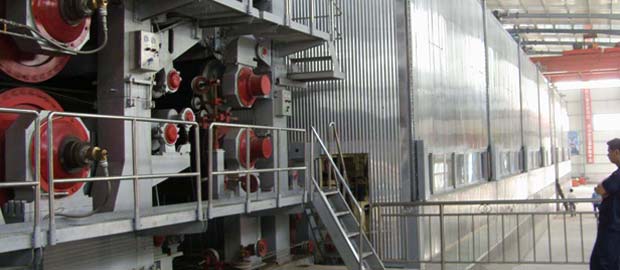 OCC recycling corrugated paper board machinery. Three layer paper board machine to make corrugated paper or T-paper. Our technical group designed flow chart according to the customer's raw material and capacity. And provide whole set OCC recycling stock preparation line equipment. Here are more specifications in the corrugated paper board making stock preparation line.
Stock Preparation Line Equipment For Corrugated Paper Board Making
Raw material: local waste paper, wood pulp
Capacity: 200t/24h
Chain Conveyor: convey capacity: 80-255m³/h
Drum Pulper: Φ2750mm,∅12/∅11/∅9mm,C=18~22%
High Density Cleaner: Q=5800-7500L/min,C=3~5%,P= 0.2~0.5MPa
M.C. Coarse Screen: A=1.21m2,∅2.0mm,C=3.0-4.0%
Light Impurity Separator: V=0.8m3,∅3.5mm,C=2.0%
Reject Separator: Φ380mm,Φ4.0mm,C=1.5%
Middle Density Cleaner: Q=5800-7500L/min,C=2~3%,P= 0.2~0.5MPa
Fractionating Screen: A=1.21m2,//0.20mm,C=2.4-2.5%
Low Density Cleaner: 1000L/min,C=1.5%
Fine Screen: A=0.91m2,//0.22mm,C=1.0%
Double Disc Refiner: Φ660mm,C=3-5%
Any needs about paper recycling line equipment, please feel free to contact us. All kinds of raw materials recycling line machine can be provided by our company. Want to set corrugated paper or kraft paper making project, Contact us for more suggestions. Email address: leizhanchina@gmail.com.