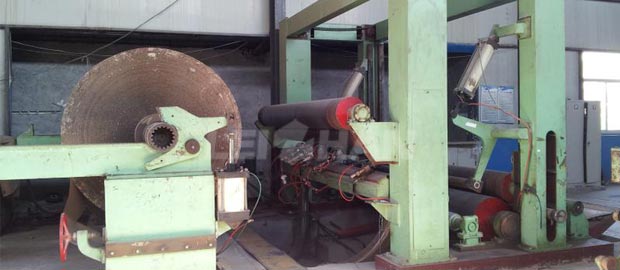 The rewinding machine is a kind of special equipment for paper. Its purpose is to rewind the paper roll produced by the paper machine. The top thread rewinder is used to slit the original paper roll initially rolled on the paper machine and rewind it into a finished paper roll that meets the width and tightness requirements. More specifications of top thread rewinder as below.
Main Data of Paper Machine Rewinder
Trimmed width: 2200mm
Threading method: top thread rewinder
Basis weight: 30-450g/㎡
Maximum diameter of base paper roll: 2000mm
Maximum diameter of paper roll: 1500mm
Diameter of front bottom knife roll: 420mm
Diameter of back bottom knife roll: 420mm
Bottom knife shaft: 280mm
Curved roller: 100mm
Design speed: 600m/min
Working speed: 500m/min
Gauge: 3880mm
The top thread rewinder can used in kraft paper machine, fluting paper machine, and culture paper machine, etc. Contact us for more 2200mm top thread paper machine rewinder. Email address: leizhanchina@gmail.com.