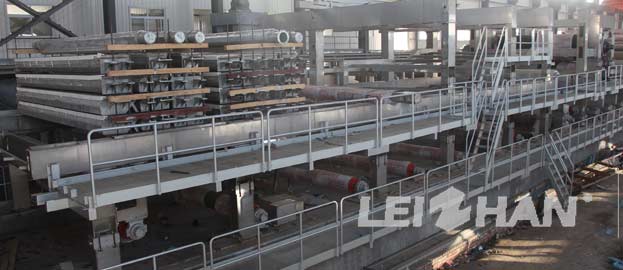 Overview Of Paper Machine
Paper Machine mainly consists of net, press and dry parts and has four distinct working procedure: forming, pressing, drying and calendaring.
1. The forming part has a fourdrinier machine type and a cylinder mould machine type.
2. The pressing part consists of press roll ,coarse cotton cloth and so on.
3. The drying part is formed by one or more dryer machine.
4. The calendaring part is mainly worked by calender machine to improve the evenness and tightness of paper(calender machine is usually equipped in fourdrinier machine).

Paper Machine And Paper Stock Preparation
The whole paper making process can be divided into two sections: paper pulping section and paper making section. The paper pulping process is the first preparation for the next paper making step. So high quality paper fibers play an important role for not only the paper machine but also the whole paper making process.
Leizhan supplies paper pulping machine and whole paper machine set. Paper pulping machine includes conveying, pulping, screening, cleaning, refining etc. equipment. And the whole paper machine set can produce corrugated paper, kraft paper, tissue paper, culture paper and so on.

Leizhan Paper Machine Manufacturer
Leizhan has more than thirty years positive experience in providing paper pulping machine and paper machine, and producing excellent equipments for customers around world. Paper machine set can produce corrugated paper, kraft paper, tissue paper, culture paper and so on. Taking corrugated paper making line as an example.
Corrugated Paper Specific Parameter
1. Finished paper type: paper board
2. Basis weight: 800-3000g/m²
3. Net paper width: 1000mm
4. Design speed: 70m/min
5. Working speed: 30-60m/min
6. Distant between sole-plates:1800mm