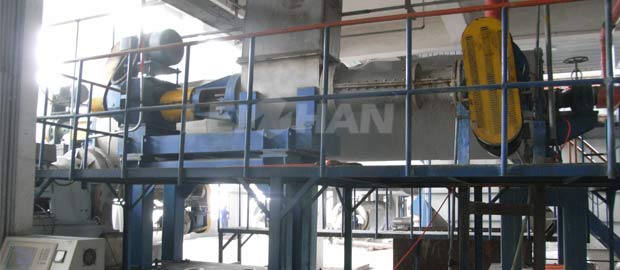 Dispersion system mainly used in waste paper(with ink)recycle to produce culture paper or living paper. The dispersion system can save corporate investment and reduce costs greatly. The thermal dispersion principle of waste paper pulp is to peel the ink particles, stickies and hot melts adhered to the fibers from the fibers and disperse them into tiny particles that are invisible to the naked eye. After thermal dispersion, the slurry is easier to mix with bleach, which improves the processing conditions of fiber raw materials and improves the quality of the slurry.
100T/D Stock Preparation Project Equipment Technical Data
High speed washer: L=2000mm, C=0.8~1%
Screw Press Washer: D=600mm, C=10~14%
Loading screw: C=25-35%
Shredder: Ø490mm C=25~35%
Heater: T=110~120℃ C=25~35%
Feeding Screw: T=110~120℃ C=25~35%
Disc Disperser: Ø710mm T=110~120℃ C=25~35%
Auto-control system: Control and detect changes in heat and pressure and current.
Tell us your raw material and production capacity, our professional engineer will design excellent proposal as soon as possible. Want to know more details about dispersion system, contact with us. Email address: leizhanchina@gmail.com.