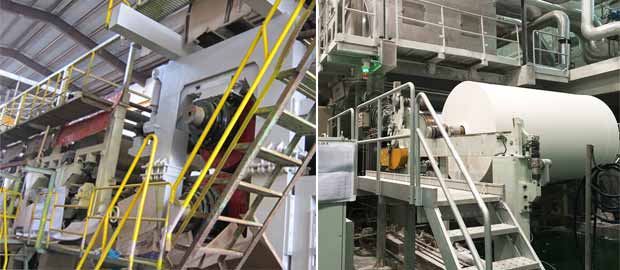 1575mm yankee cylinder culture paper machine is composed of foundation part, wire part, press part, drying part, reeling part. Using waste white shavings or virgin pulp to make culture a4 paper, leizhan offer full set stock preparation line for paper mill.
1575mm Yankee Cylinder Culture A4 Paper Machine Overview
1.Raw material: Virgin pulp/ waste white shavings
2. Output paper: culture paper, a4/a3 paper, writing paper
2. Net width: 1575mm
3. Base weight: 60~80gsm
4. Structure speed: 100m/min
5. Working speed: 40~60 m/min
6. Crawling speed: 20 m/min
7. Capacity: 5 tpd
8. Gauge : 2400mm
Any needs about 1575mm yankee cylinder culture paper machine, welcome to consult us for more details. Email address: leizhanchina@gmail.com.