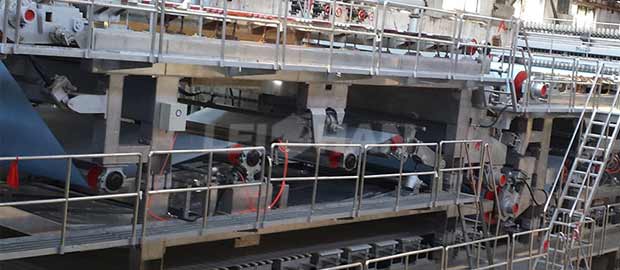 Generally, the owner use wood pulp or white shavings as raw material to produce writing paper or culture paper. Our pulping equipment are able to treat slurry efficiency. Such as pulp screening machine to remove small impurities and control the concentration of slurry, pulp refining machine improve the beating degree of slurry and pulp cleaning machine remove impurities. We can provide unit paper production line of writing paper.
Writing Paper Pulping Line Equipment
Wood pulp/ white shavings → high consistency hydrapulper → high frequency vibrating screen → pulp pump → efficient double disc pulp refiner → pulp pump → chest agitator→ pulp pump → centrifugal screen → pulp pump → impurity remover → a4 paper machine → calendar → winding machine → rewinding machine → marketing
The complete 2880mm recycle machine writing paper production line include stock preparation line and paper machine. We are very professional in pulping equipment field. Please feel free to contact with me more details about writing paper production line or technical problems. Email address: leizhanchina@gmail.com.