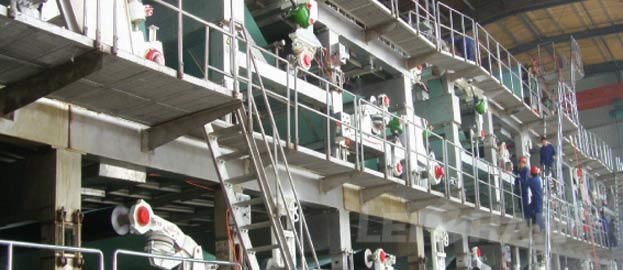 Offset printing paper machine, also called double-side offset paper, suitable for printing all kinds of color book cover, main body, inset, pictorial, map, picture poster, logo, and variety packing. The basis quantity is 60-150g/m².
Offset Printing Paper Making Machine
Waste paper pulp( wood pulp)→ Pulp thickener→ Refiner→ Mixed pulp chest→ Pulp chest→ White water tank→ Pulp cleaner→ Gas remove tank→ Pressure screen→ Offset printing paper machine.
If daily output is 300t/d, then the annual production capacity of offset printing paper is 10,0000t.
The variety of raw material can influence the flexibility of paper, the paper made of less hemicellulose content, more lignin content, long fibers with thciker cell walls has good stability, and low flexibility. But shprt fiber straw pulp is easy to absorb water and swelling, big flexibility.
Leizhan make the full line of offset printing paper making machine, welcome to consult us for more details. Email: leizhanchina@gmail.com