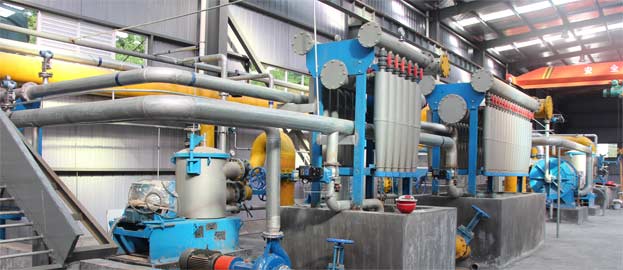 Raw material: 100% mixed waste paper
Products: Renewable cultural paper, Writing paper and Newsprint.
Leizhan provides advanced fiber processing solutions through its line of pulping, screening, cleaning; as well as Flotation deinking, Heat dispersion and High Consistency Bleaching.
Leizhan engineers helps paper plant to design the specific-customized flow sheet of stock preparation line and approach flow system for paper plant.
50T/18H Mixed waste paper deinking stock preparation line 
Chain Conveyor-High Density Hydrapulper-High Density Cleaner-Mid-consistency Coarse Screen-Reject Separator -Double wire Press Washer -Calorifier-Roller Type Heat Disperser -Mid-consistency Fine Screen -Front Floatation Deinking-Low Density Cleaner Group -High Speed Washer -Screw Press Washer -Calorifier –Disc Type Heat Disperser -Screw Conveyor -High Density Bleaching Tower-Retral Flotation Deinking Cell -High Speed Stock Washer -Screw Conveyor-Mid-consistency Mixer -Mid-consistency Bleaching Tower-Pressure Screen Before Paper Machine