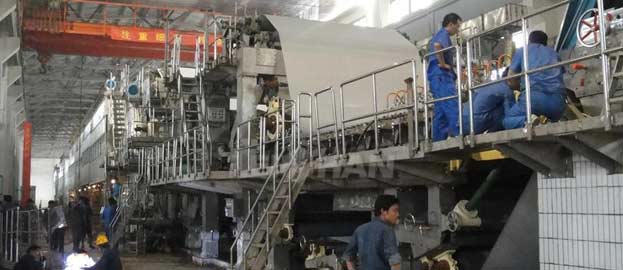 Leizhan manufacture high-grade cultural paper machine, which can set up a complete cultural paper making line to produce high quality notebook, a4 copy paper, writing paper and printing paper.
Notebook Production Machine
We supply the whole notebook paper pulping line, from waste paper conveying to pulp flow system, raw material can be waste book, waste office paper, waste newspaper, recycle paper, wood pulp, etc. The machine for manufacturing notebooks include Chain Conveyor, Hydrapulper, pulp cleaning machine, screening machine, deinking machine, refining machine, etc.
Notebook Making Machine
The fine pulp is flowed into paper making machine through pulp flow system. From headbox to calender, finally get high quality notebook body paper. We supply notebook making machine trimmed width 1880-3750mm, basis weigh 40-80gsm, operating speed 200-1200m/min, production capacity is according to your demand. For more details and support, contact us: leizhanchina@gmail.com.