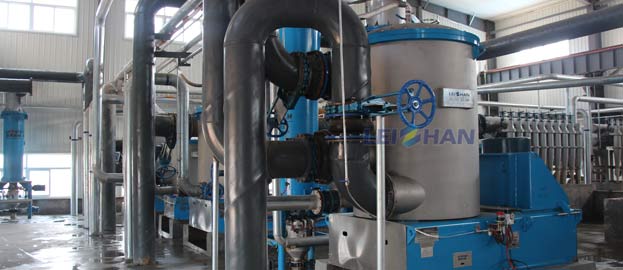 White Printing Base Paper have excellent runnability, print performance and opacity, and with the features of high brightness, stiffness, high smoothness.
Leizhan supply the whole set of pulp production line and approach flow system machines for White Printing Base Paper Production Plant use wood pulp, white shavings, recycled  paper as raw materials.
Pulp Production Machine for White Printing Base Paper Production
Continuous Pulping and Detrashing: Drum pulper system, D type continuous hydrapulper system, H.C. hydrapulper, M.C. hydrapulper, Vertical hydrapulper,
Pulp cleaning: High density cleaner, Medium density cleaner and Low density cleaner
Pulp screening: Coarse pressure screen, Fine pressure screen,  Fiber fractionating machine, Inflow pressure screen
Reject handling equipment: Light impurity separator, Reject separator, Vibrating screen, Fiber separator
Pulp refining: Double disc refiner, Conical refiner, Claflin refiner
Pulp thickening: Inclined screw thickener, Stock washer
Apart from this, Leizhan also is able to supply Flotation cell, Disc disperser, Pulp pump and so on for pulp processing line.