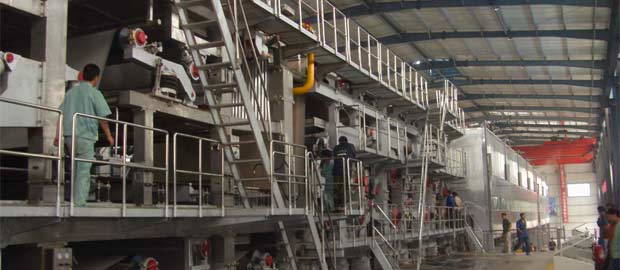 For whole set paper recycling industry, the production line include stock preparation line and paper machine making line. We are professional engineer and offer high quality paper pulp production line machine. Here are more details about kraft liner board paper stock preparation line machine.
Kraft Liner Board Paper Stock Preparation Line Machine
Raw material: 100%LOCC
Capacity: 120t/18h
Chain conveyor: Working Width:B=1400mm,Total Length:26m.
D type hydrapulper: 25m³, h=10mm, C=3~5%
Pulp chest: Ø850mm, 80~100m³, C=3~5%
High density cleaner: Q=6500~7800l/min, C=3~5%
Middle consistency coarse screen: A=1.2m², h=2.0mm, C=3%
Fiber separator: Ø880mm, h=4mm, C=2%
Reject separator: Ø380mm, C=1.2%, Ø4mm
Mid consistency cleaner: Q=6500~7800l/min, C=2~3%
Low density cleaner: 600ml/min, C=1.0%
Double disc refiner: Ø380mm, C=3~5%
Tell us your raw material and capacity, our professional engineer will offer reasonable case. Email address: leizhanchina@gmail.com.