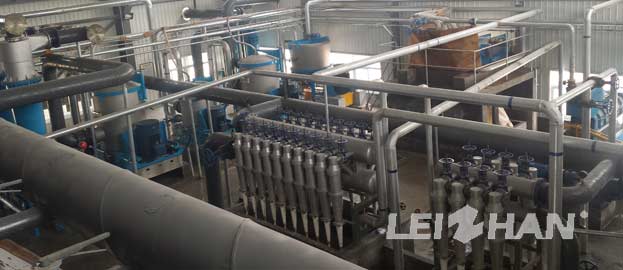 Paper stock is a key point for a finished craft paper quality. Generally, the raw materials type adopt to different paper making machine set. Leizhan supply a 200tpd craft paper pulping project to show how does raw materials influence paper and how does craft paper produced.

200t Craft Paper Stock Production Line
Raw materials: 50%AOCC, 50%LOCC
Stock preparation time:18h
Production stage: conveying, pulping, screening, cleaning, refining and so on
Need machines: BFW1600 Chain Conveyor-ZDSD28 D Type Hydrapulper-ZSC6 High Density Cleaner-ZTJ850 Agitator-KH600 Low Density Cleaner-PZ2 Reject Separator-KS Pulp Pump-Inclined Screen-Pulp Chest
Motor power: about 940Kw
Operation way: automatic and hand
Production Period: about three months
Remark: (1) Machine or machine set equip with control carbine
(2) Inclined screen offered by customer
(3) Leizhan technicist in charge of installing work.

Craft Paper Making Machine Cost&Maintenance
1. Regularly check the machine bearing lubrication, add lubricating grease half a month and change the lubricating grease half a year.
2. Adjust the tension of machine triangular belt and change a new one if the triangular belt is broken.
3. Riding wheel, catch wheel and pinion bearing changing period is half month.
4. Regularly check the bolt.
5. Clean the impurities when stop running machine.
6. Regularly check the blocking situation of water and pipeline.
The machine cost depends on the specific used machine type, production capacity and number. Leizhan devotes itself to provide high-quality paper making machine with a reasonable price.