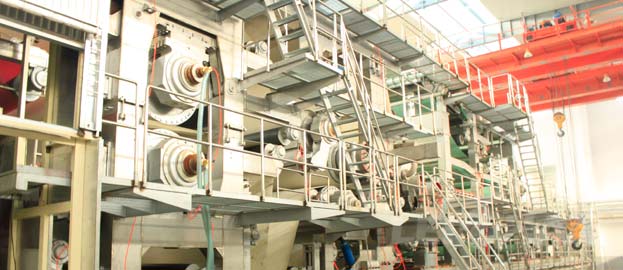 Fluting kraft paper roll is made from waste recycling paper, which through pulping line and paper machine making section to get final paper then winding to the paper roll, we supply the whole fluting kraft paper roll making machine, the 2880mm fluting testliner paper machine parameters as following mention:
Testliner Corrugated Paper Making Machine
1. Raw material: waste paper, white or brown cellulose;
2. Output paper: fluting paper, testliner, white or brown top liner;
3. Capacity: 40-60 tons per day;
4. Net paper width: 2880mm;
5. Output paper weight: 80-200g/m²;
6. Diameter of dryer: 1500mm;
7. Width of dryer: 3150mm;
8. Working speed: 180m/min;
9. Bearing center-center: 3700mm;
10. Drive and control: Alternating current, frequency conversion, section drive.
The stock preparation of kraft fluting paper making line is very important, our pulp making equipment can greatly decrease the fiber loss, improve the whole production capacity, more details about fluting kraft paper making machine, consult us: leizhanchina@gmail.com