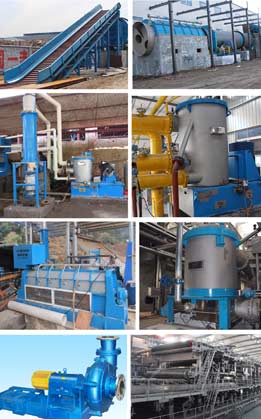 Leizhan is one of the leading DCS stock preparation equipments and QCS paper production machinery suppliers to deliver a complete paper production line for paper plants. Experienced Leizhan project teams give you support during engineering, planning, erection, and start-up of your mill. Technical and service support is at-the-ready throughout the life of the equipment.
Leizhan supplies full packaging paper/board production lines for new installations and individual machine components. The whole paper production line contains pulp making line and paper production line.
30t/d paper pulp making process
First of all, raw material is conveyed by chain conveyor to D type hydrapulper for primary pulping, the pulp entered into High density cleaner for removing heavy impurities in paper pulp.
Secondary the pulp is conveyed into mid consistency pressure screen for screening. Fine pulp is conveyed into the pulp pump directly, the tailing is conveyed into reject separator for fiber relief and impurities separate.
Thirdly, the pulp is conveyed into mid consistency fine screen for fine screening. Moreover, the pulp is conveyed into low density cleaner for removing gravel, scrap iron, dust, and double disc refiner can refining the improving the beating degree and pulp quality.
Finally, the pulp enter into headbox for paper making.
Wrapping paper production machinery
Leizhan engineers designs the customized and suitable solution for 30t/d packaging paper production machinery. The basis weight of the paper machinery range of 80-250g/m2, and the trimmed width is 2400mm. The paper machine speed range from 80m/min to 100m/min. Moreover, Leizhan paper machinery applies QCS automatic control system, which makes it easier to control and operate.