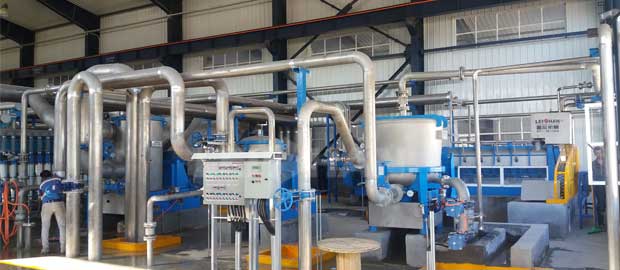 OCC is the raw material for the production of kraft paper, corrugated paper and other packaging paper. Pulping equipment is needed in every pulping production line. Recycling OCC, after paper pulping, pulp screening or pulp cleaning, the pulp flows into paper machine to make new paper. We are professional manufacturer of stock preparation line machine and have 40 manufacturing experience. Here are stock preparation line machine details in 350t OCC recycling pulping line.
Stock Preparation Machine Details of 450t OCC Pulping Line
Chain Conveyor: Conveying capacity: 110-347 m³/h
D Type Hydrapulper: pulping capacity, 550tpd
Grapple: 0.2m³
Ragger: motor power, 3KW
Rope Cutter: motor power, 7.5KW
Drum Screen: Throughput: 8-10 m³/min
High Density Cleaner: Single flow, 4000-4500 L/min
Coarse Screen: capacity, 350tpd
Light Impurity Separator: capacity, 350tpd
Reject Separator: inlet consistency, 1.5%
Vibrating Screen: slot size, 1.5mm
Fine Screen: motor power, 75KW
Leizhan offer complete OCC recycling stock preparation line machine, high quality, low motor power and long service life. If you want to know more, please contact us for more details. Email: leizhanchina@gmail.com.