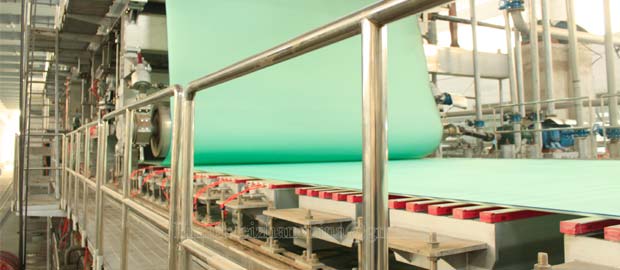 3600 type three layer wire multi-cylinder paper machine, which is mainly used to produce 90-350g/㎡ testliner paper, etc. All products are testliner paper roll. This testliner paper machine consists of three-layer wire part, press part, drying part, sizing machine, calender, reeling part, transmission part, foundation part, steam hood part, electric control part, lubrication part, air compression part, tapping rope system system and other components.
Main Data of 3600mm Testliner Paper Machine
Raw material: waste paper
Main products: testliner board paper
Basis weight: 90-350g/㎡
Production capacity: 120t/d
Working speed: 180-250m/min
Design speed: 260m/min
Crawl speed: 30m/min
Dynamic balance speed: 400m/min
Wire width: 4100mm
Gauge: 4600mm
Whole set testliner paper making project machine supplier, if you want to know more about set testliner paper mill, please feel free to contact us. Email address: leizhanchina@gmail.com.