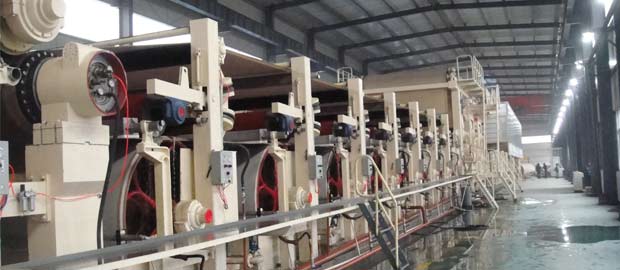 One of our clients use America waste paper as raw material to make yarn tube paper. Our technical engineers have formulated a reasonable technical solution according to the client's requirements. Main technical data of 3600mm yarn tube paper machine as below.
Main Technical Data of 3600mm Yarn Tube Paper Machine
Paper type: yarn tube paper
Basis weight: 280-500g/㎡
Raw material: #11 America waste paper
Roll paper width: 3650mm
Headbox lip width: 3900mm
Working speed: 150~250m/min
Mechanical design speed: 300 m/min
Large paper roll diameter: 2800mm
Dynamic balance speed: 400m/min
Crawl speed: 20 m/min
Transmission mode: AC variable frequency control sub-transmission
Recycling waste paper to make yarn tube paper, kraft paper and corrugated paper. Unit paper recycling packaging paper production line machine supplier from China. More info about 3600mm yarn tube paper machine, please feel free to contact us. Email address: leizhanchina@gmail.com.