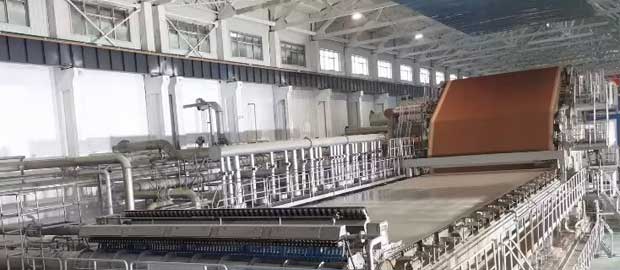 The 3900mm multi wire kraft paper making machine uses 5 φ1800 cylinder pressure formers for sizing. The press section adopts one vacuum press and two large roll diameter presses, and adopts a hydraulic pressure system. The drying section adopts a square box frame with good ventilation performance, and the paper machine adopts a semi-open hood. Generally speaking, paper mill owner always use waste paper as raw material to make kraft paper, we can offer whole set kraft paper production line machine.
Main Data of 3900mm Kraft Paper Machinery
Main Product: Kraft Liner Paper
Output: 220T/D (according to 200m/min, 200g/m²)
Basis weight: 100-300g/m²
Net paper width: 3900mm
Design speed: 250m/min
Working speed: 200m/min
Crawling speed: 25m/min
Gauge: 5000mm
Transmission mode: AC frequency conversion speed regulation division drive
Floor plan: Single storey.
Pulp ratio: 100% domestic waste paper
Compressed air pressure: ≤0.6mpa
Whole set kraft paper making machinery supplier from China. If you have an idea to set kraft paper mill, please contact us for more details, whatever large capacity or small capacity. Email address: leizhanchina@gmail.com.