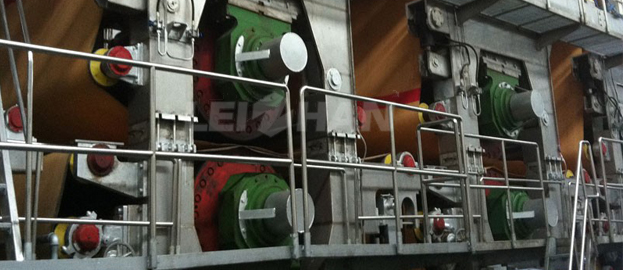 Leizhan is a professional paper making machine manufacture with over 35 years rich experience. Leizhan can supply the complete set of waste paper processing line like fluting and text liner grades for the different production capacity.
Information Of 400T/D Waste Paper Processing Plant
Basic raw material: super market brown waste and converter cuttings and Dsocc gr-12
Production capacity: 400T/D
Pulping process: waste paper conveying, pulping, screening, refining, cleaning.
End product: Kraft paper
Application Of Paper Pulping Process
Conveying: Conveying process is mainly used for conveying various kinds of pulp wood, waste paper in bulk and in bundle which can be horizontal conveyor or inclined conveyor.(≤30°)
Pulping: Waste paper are conveyed into Hydrapulper, then add chemicals and hot water into the equipment. The mixture can be continuous gentle pulping and coarse screening under high consistency.
Screening: The waste paper pulp can be coarse and fine screening in the pressure screen machine.
Cleaning: Paper pulp in the Hydrapulper are flowed into High Density Cleaner, to remove all kinds of heavy impurities like staples, stones, glasses, etc. And Low Density Cleaner mainly used for removing heavy impurities in the pulp like gravel, scrap iron, dust and large ink particles.