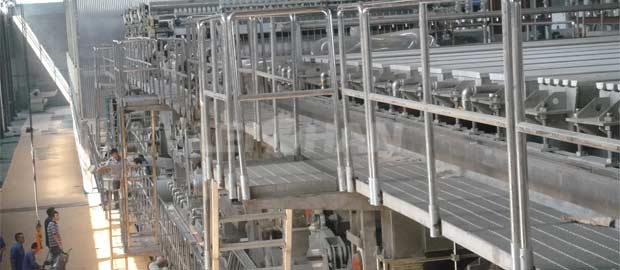 2200mm double layer cardboard paper machine mainly used to make 120-250g/㎡ cardboard paper. Recycling waste paper(OCC, AOCC) as raw material, after paper pulping, pulp cleaning, pulp screening and pulp refining enters into 2200mm double layer cardboard paper machine wire section, press section, drying section and reeling section, and then process into cardboard paper roll. Complete stock preparation line equipment can be provided by Leizhan company. The details of the components of the 2200mm doule layer cardboard paper machine are as follows.
Details of Double Layer Cardboard Paper Machine
Wire section: Top wire length is 6.5m, bottom wire length is 18m.
Press section: Composed of two large roll diameter.
Drying section: The drying section has a total of 22 pieces of 1800mm Dryer cylinder which are arranged in the form of 6+8+ sizing machine +8+ two roll calender.Transmission form is gear box transmission.
Reeling section: Horizontal pneumatic cylinder reeling machine, max. Reeling diameter: 2200mm, reeling dynamic balance: 1000m/min.
Corrugated paper is mainly glued with corrugated paper core to make corrugated boxes, which are used for packaging household appliances, daily necessities, knitted cotton fabrics, stationery, Chinese and Western medicines, etc. This paper can be obtained by recycling waste paper, and Leizhan provide complete recycling waste paper stock preparation line equipment. More specifications about 2200mm double layer cardboard paper machine. Contact me. Email address: leizhanchina@gmail.com.