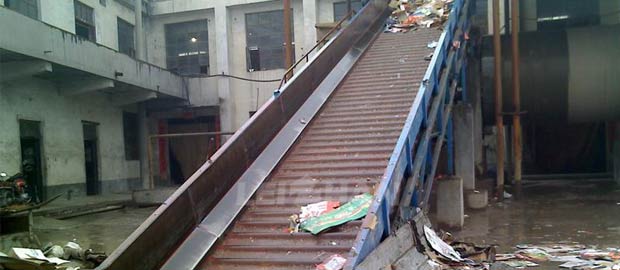 Slat Chain Conveyor mainly used in paper pulp making line to convey waste paper or pulp board to pulper or bale breaker. We have cooperated with many customer and sold abroad. In order to better serve customers, I summarized the installation details, hoping to benefit from it.
Chain Conveyor Install Details In Paper Making Line
1. Installation of the horizontal section and the concave arc section frame: first place the horizontal section and the concave arc section frame of the chain plate machine on the foundation, correct the center line of the chain plate machine and the center line of the equipment plan, and wait for the chain plate machine All of the racks are installed and corrected before final permanent fixation.
2. Installation of inclined section frame and outrigger: First, each outrigger and outrigger reinforcement components are welded firmly to the foundation embedded plate according to their respective positions and elevations, and then the inclined section frame can be hoisted as a whole, and the inclined section lower longitudinal beam is placed on the back end of the chain conveyor leg and the concave The arcs meet.
3. Chain and slot plate assembly and tightness adjustment: The chain trough plate is assembled in sections at the time of delivery, and the sections need to be linked together on site. Pay special attention to the direction of the trough plate and the running direction of the chain machine.
Slat Chain Conveyor has the advantages of large capacity, low motor power, less wear, reliable operation and high efficiency. If you want to know more about how to install Chain Conveyor, contact us. Email: leizhanchina@gmail.com.