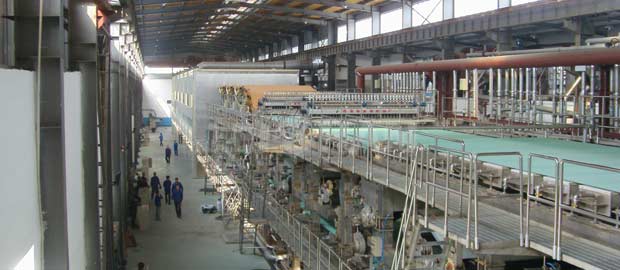 Four layer kraft paper board machine, with a trimmed width of 3700mm, mainly used for making liner board. The kraft paper machine is mainly divided into the following parts: headbox, fourdrinier part, press part, front drying part, sizing machine, rear drying part, calendering part, and reeling part. More info about these parts as below.
Info of Kraft Liner Testliner Paper Machine
Headbox: Four sets of air-cushioned headboxes correspond to the top layer wire, lining layer wire, core layer wire, and bottom layer wire respectively. By controlling the gas pressure in the headbox, the sizing head of the slurry is controlled and stabilized.
Wire part: Four layer wire which are top wire, lining wire, core wire, and bottom wire. Main components: breast rolls, forming plates, dewatering plates, vacuum boxes, composite rolls, vacuum rolls, drive rolls, and guide rolls And the frame, etc.
Press part: Divided into one press, two press, three press and four press, the pressurizing method is hydraulic cylinder pressurization.
Dryer section: Φ1500/Φ1800 drying cylinder, grouped transmission, equipped with guide roller and drying wire. Equipped with a closed gas hood.
Reeling part: pneumatic horizontal paper reel, pressurized by air cylinder.
Have you planned to build a kraft paper factory? Welcome to consult us for more information about technical problems. Want to know more about kraft liner board paper machine, contact us. Email address: leizhanchina@gmail.com.