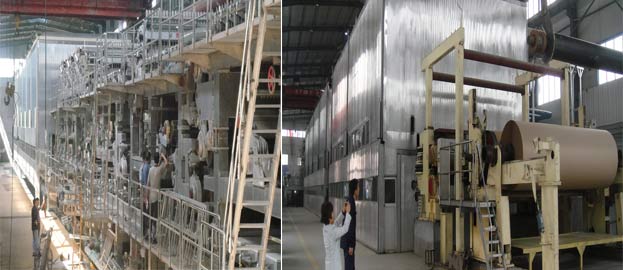 Nowdays, paper making always use waste recycling paper as raw material, through waste paper selecting, pulping, pulp screening, pulp cleaning, pulp refining get final pulp, and the fine pulp flow to paper machine through headbox, wire part, press part, drying part, calendering part, sizing part and paper winding machine to get final paper roll. We are able to supply the full kraft liner testliner processing line, the machine details as below.
Kraft Liner Testliner Paper Machine Technical Data
Paper grade: Kraft liner, testliner, fluting paper
Trimmed width: 2400mm-6600mm
Basis weight: 90-200gsm
Design basis weight: 125gsm
Design speed: 250m/min-1000m/min
Working speed: 200m/min-800m/min
Design production: 100-900tpd
Gear drive system: Closed drive type, opened drive type.
We are professional at kraft liner testliner stock preparation project machine, such as paper pulper, mc pressure screen, pulp cleaner, pulp tailing dealing device etc, if you interested testliner fluting paper machine, welcome to consult us for more details. Email: leizhanchina@gmail.com.