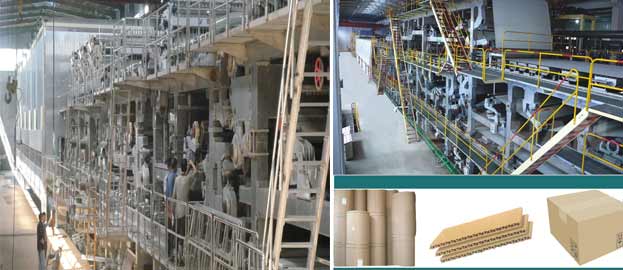 At present, kraft paper is widely used in chemical and mechanical industry, especially widely applied in food packaging industry.
Kraft paper application: Used in all kinds of packaging supplies, paper bags, color box, kraft paper gift box, printed kraft paper, envelop, etc.
Advantages of kraft paper: Flexible and strong, high bursting strength, able to withstand high tension and pressure without breaking.
We manufacture the complete production line of kraft paper making machine, include the stock preparation equipment to kraft paper roll rewinder.
Kraft Testliner Paper Making Machine
Raw Material: Waste paper board, virgin wood
Kraft paper making capacity: 0-750t/d in general, the actual capacity is change with your demand
Kraft paper pulping line machine: Waste paper Chain Conveyor, Drum Screen, Bale Breaker, Hydrapulper, High Density Cleaner, M.C.Pressure Screen, Low Density Cleaner, Vibrating Screen(Reject Separator), Light Impurity Separator, Pulp Refiner, Inflow Pressure Screen, Pulp Pump, Ragger, Rope Cutter, Pulp Agitator, etc.
Kraft paper making machine: Equipped with at least two headbox, the pulp through headbox flow into press part, drying part, calendering part and sizing part to get final kraft paper, then through paper winding machine and rewinding machine get kraft paper roll.
The kraft paper making machine in our company with high quality(imported accessories) and reasonable price, if you want to set up kraft paper making line, welcome to consult us: Email: leizhanchina@gmail.com