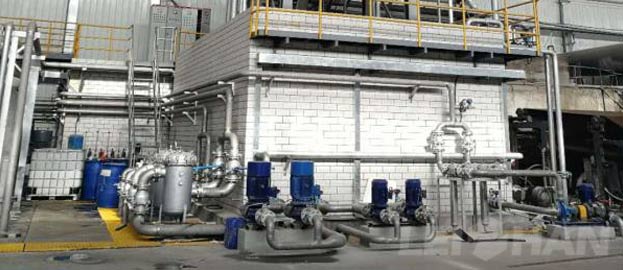 The disc vacuum filter is a solid-liquid separation device that uses vacuum as a filtering power to perform solid-liquid separation of the slurry. The machine adopts advanced technology such as filter disc guide frame guidance, variable speed stirring, reverse blower discharge, automatic centralized lubrication, etc. It is an excellent performance and reliable dewatering equipment. Multi-Disc Vacuum Filetr used in paper mill is mainly for separate the pulp and water, improve the consistency of pulp.
The Structure Of Multi-Disc Vacuum Filter
The multi-disk is mainly made of:
tank body(SS304)
spindle(SS304)
upper cover(SS304)
filter plate(SS304)
distributing valve(SS304)
pulp stripping device(SS304)
flushing device(SS304)
washing net device(SS304)
transmission device and pulping device.
Parameters Of Multi-Disc Vacuum Fiter
Disc filter material: 304 stainless steel, reinforcing ribs for carbon steel
Processing Capacity: 20m3/h
Raw Material: Commercial Wood pulp
Consistency of White Water: 0.02-0.06%
Ash Consistency of White Water: ≤5%
Degree of beating: 28°SR
Pulp Consistency: 3%-5%
Diameter of Disc: 2500 mm
Quantity of Discs: four
Distance of each disc: 300mm
Filter area of each disc: 8.5㎡
Installation filter area: 35㎡
Main driving power: 5.5kw/frequency control
Size(Length×Width×Height): 3885mm×3035mm×4168mm
We make high quality and lower price Multi-Disc Vacuum Filter for paper mill, more details welcome to consult us: leizhanchina@gmail.com