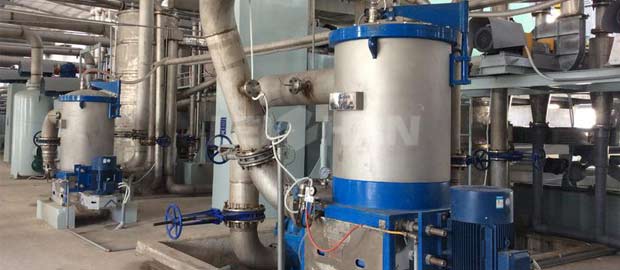 Kraft paper production line NLS0.6 inflow pressure screen mainly used to uniform slurry, make slurry concentration more even. Inflow pressure screen is a continuous screening device with pressure in a completely closed state. During operation, the slurry enters the outside of the screen basket along the tangential direction from the slurry inlet pipe on the upper part of the machine. Under pressure, it enters the screen basket through the screen slits (holes), and is led out from the accepts slurry pipe at the bottom. The slurry and impurities that cannot pass through the screen slits (holes) drop to the bottom and are removed from the slag discharge pipe. Here are more informations about NLS 0.6 Inflow Pressure Screen In Stock Preparation Line.
Technical Data of Inflow Pressure Screen
Type: NLS0.6 inflow pressure screen
Raw material: OCC, Commercial pulp
Screening area: 0.75㎡
Accepts ability: 5-25BDT/D
Stock inlet concentration: 0.3~0.6%
Operating pressure:0.2-0.3MPa
Operating pressure difference:0.01-0.03MPa
Reject pulp emission rate:8~10%
There are many pulp screening equipment in kraft paper production line, like M.C.coarse screen, fine screen, fractionating screen, etc. In addition to these pulp screening machine, complete stock preparation line equipment can be supplied by Leizhan in every type paper recycling line. Want to know more about NLS0.6 inflow pressure screen, please feel free to contact us. Email address: leizhanchina@gmail.com.